When we first revealed The Final Five for BattleBlock Theater, our avid BBT players did not miss a beat. The completionists in them cried in agony for the final slot to be filled and truth to be known. Well, we're here to tell you today that we've been telling you the truth all along. The 6th prisoner is a myth.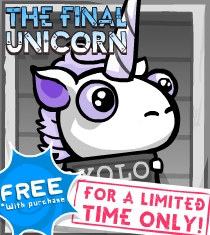 Meet the Final Unicorn. Born out of myth & legend, only the purest of heart may chance upon an encounter with this majestic creature. And as legend has it, the unicorn usually makes an appearance in a world where belief in magic was in danger of failing altogether. Not sure how this plays into that, but we've also been told unicorn meat is quite the delicacy.
This most graceful soul can be yours to roam the Theater once you've proven your skill within Sir Furbottom's Features.
Make your set of prison friends complete and get The Final Unicorn before it becomes a whisper of the past.
---
Thank you to all of the BattleBlock Theater players who have been with us since the game's release. And thank you to those who joined us at later dates! Don't worry, we're doing encore releases for all of our special unlocks, so you'll get another chance to grab the star prisoners.
Finally, here is our updated Prisoner Chart with all the possible BattleBlock Theater unlocks!