In the midst of Winter we may find the cutest and cuddliest of all creatures burrowing in the walls of the Theater. Its appearance is a sign of many more things to come.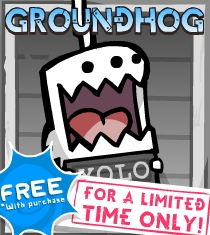 While the groundhog of Punxsutawney, Pennsylvania has beseeched another long winter, we are yet to know what this prisoner brings to BattleBlock Theater. All we can say is that you must make haste.

For a limited time only, the third prisoner of the Final Five, the Groundhog prisoner, is available to all who sign in to Xbox LIVE and load up the full version of BattleBlock Theater. No need to play through a playlist to unlock it, but you must head towards an online area in order to capture it.