Men, women, girls and boys of all ages can now sport the latest and greatest fashion trends from medieval times! Castle Crashers accoutrements are available on Xbox LIVE and your new garments are going to make you the talk of the village. And each item is under 300 MSP!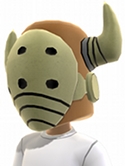 While only a few accessories and outfits are shown in this post, a whopping twenty-six items were released yesterday to the world and we're looking forward to seeing how you mix and match your avatar accessories. Will you suit up with the red knight tunic and confuse your comrades with the barbarian head? Have you always wanted the body of a ninja pirate and the face of an alien? The possibilities of strange and wonderful representations of your personality are endless.
Check out all the Castle Crashers avatar items here.
Each piece of head gear is 160 Microsoft points and tunics are 240 Microsoft points each.