Five years ago, we released our second game title: Castle Crashers. It started off on Xbox LIVE, then a couple years later it was on PlayStation and most recently we joined the Steam community.
Thanks to the support of our fans we were able to reach over 4 million downloads across the three different platforms since 2008! It has both motivated and allowed us to continue pursuing our dream of making original content for games.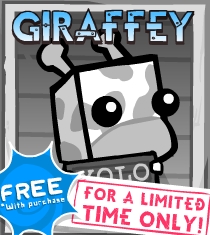 For the super fans of Castle Crashers and our recently released Xbox LIVE title, BattleBlock Theater, we have unlocked a special prisoner just for you! One of my favorite animal orbs is being released into the puzzling world of BBT:
GIRAFFEY
All you have to do is sign in to Xbox LIVE and boot up your full version of BattleBlock Theater. Once you're in the game, click around a bit in the menus and Giraffey should unlock for you.