It hath begun. The first of five reveals in BattleBlock Theater for those who have completed the Furbottoms Features. A new cooperative community playlist has just been featured and the reward, for ye kind sirs and ladies, is our favorite brute from Castle Crashers!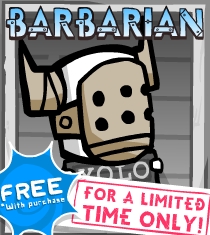 Homeless after one too many bad knights, the Barbarian has learned how to express his need for princesses and castle crashing with less murder and more interpretive dance. But still sometimes murder.
Will he find a home in your household of prisoners? Get the first of the Final Five soon before it's gone! Learn more about the new Furbottoms Features playlist that you need to defeat in order to get our Barbarian.