Steam is scary when it crowds the area and you can't see through it, right? Kinda like fog?? Fog is totally scary. Well, anyway, not important. What is important is that it's time for the Steam (but not that kind of Steam) Halloween Sale!
From October 29th through November 2nd, all Behemoth titles will be on sale on Steam!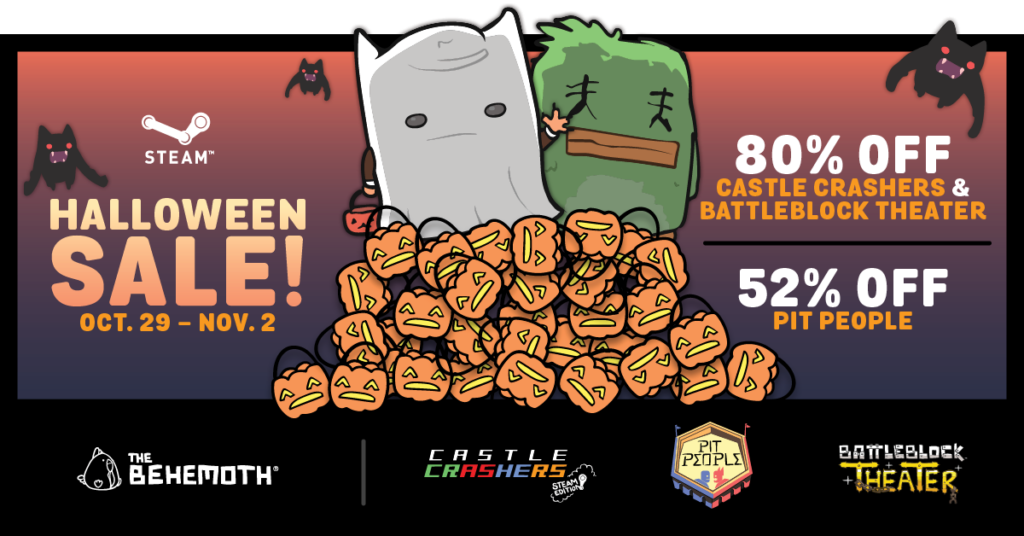 If you can manage to make your way through all of the creepy haunts and howls to scout out this spooky sale, you'll find that Castle Crashers and BattleBlock Theater are scarily discounted to 80% off. Even more terrifying, Pit People has had its price slashed down to 52% off! Nothing is scarier than numbers that aren't round!!
PS (but make it spooky) — The Behemoth Halloween contest is running through Halloween night! You're invited to dress up our chicken in a lovely costume or warp one of our characters into a sickening abomination, all for the chance to win scary good prizes! If you're not up for tricks and treats, you can always grab merch during our So Very Scary Merch Sale that also wraps up on October 31st. Check 'em out, but watch your back — it is Halloween, after all.