Today, Pit People officially released on Steam and Xbox One! In just a little over a year, we were able to kiss early access goodbye thanks to the help of our Early Access & Game Preview supporters!

Pit People's full release will include:
Full Story including all cinematics
Single player Story Mode
2 player local co-op
2 player online co-op
Insane Mode
Permadeath Mode
100+ missions and quests
200 regions to explore
1500+ unlocks
Daily Tournaments (Unfair Challenge with up to 2 players, PVP with up to 4 players)

For those of you who have been playing since Early Access, you can check out the full changelist below.
We're currently working on another update for the future, but when that comes out and what will be included will be finalized later, after analyzing release feedback. (For science!)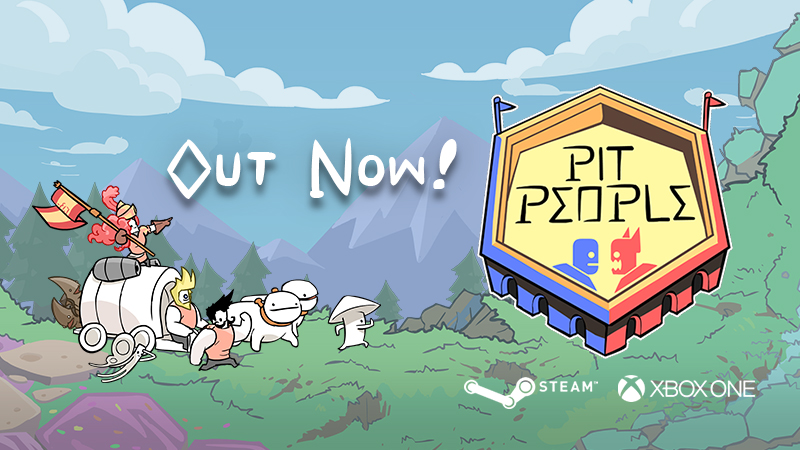 Launch Discount
Some more good news: Pit People retails at $19.99 USD, but we've extended our early access discount until March 13, 2018. Get the game at 25% OFF ($14.99 USD) during its launch week!

Launch Celebrations
We've also got a couple events going on next Week:
Reddit AMA
Wednesday, March 7th, 10AM PST / 1PM EST
Just days after the full release launch, we'll be holding a reddit AMA at the IAmA subreddit. Come ask us anything about Pit People or any of our games. Bring us your words!
Live stream of Pit People
Thursday, March 8th, 3PM-5PM PST
We'll be playing Pit People and talking in depth about its development. You can watch and chat during the live stream at one of our channels: Twitch, YouTube, Facebook.
It'll be another chance to chat with our team about Pit People and what we've changed since early access. Speaking of which…