Today, Pit People officially released on Steam and Xbox One! In just a little over a year, we were able to kiss early access goodbye thanks to the help of our Early Access & Game Preview supporters!

Pit People's full release will include:
Full Story including all cinematics
Single player Story Mode
2 player local co-op
2 player online co-op
Insane Mode
Permadeath Mode
100+ missions and quests
200 regions to explore
1500+ unlocks
Daily Tournaments (Unfair Challenge with up to 2 players, PVP with up to 4 players)

For those of you who have been playing since Early Access, you can check out the full changelist below.
We're currently working on another update for the future, but when that comes out and what will be included will be finalized later, after analyzing release feedback. (For science!)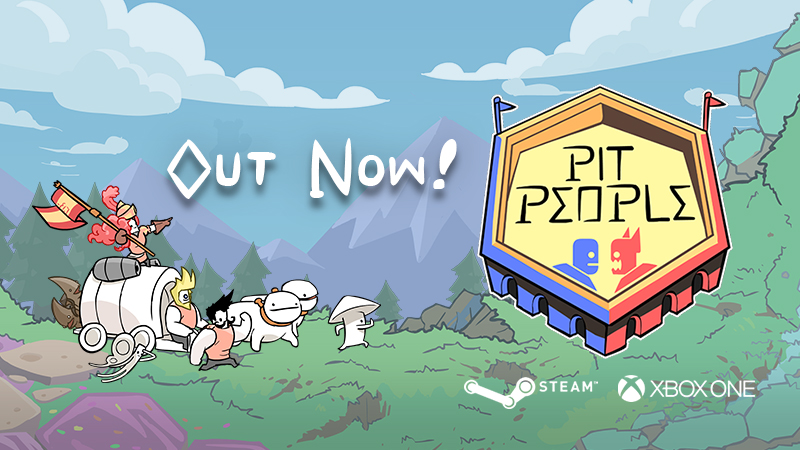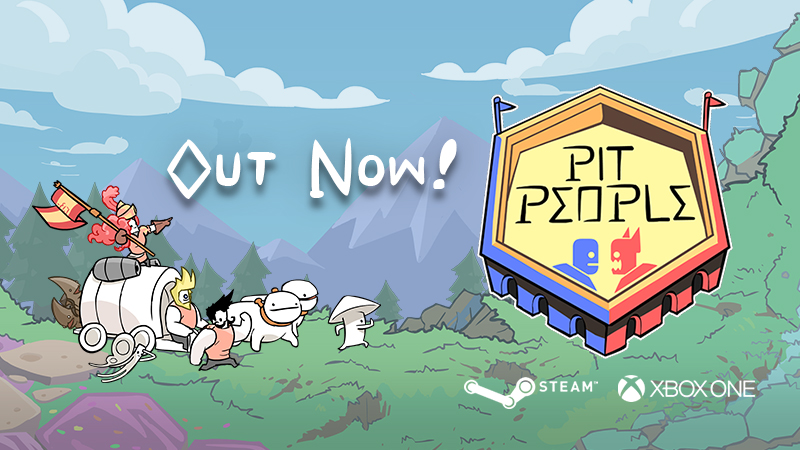 Launch Discount

Some more good news: Pit People retails at $19.99 USD, but we've extended our early access discount until March 13, 2018. Get the game at 25% OFF ($14.99 USD) during its launch week!

Launch Celebrations

We've also got a couple events going on next Week:
Reddit AMA
Wednesday, March 7th, 10AM PST / 1PM EST
Just days after the full release launch, we'll be holding a reddit AMA at the IAmA subreddit. Come ask us anything about Pit People or any of our games. Bring us your words!
Live stream of Pit People
Thursday, March 8th, 3PM-5PM PST
We'll be playing Pit People and talking in depth about its development. You can watch and chat during the live stream at one of our channels: Twitch, YouTube, Facebook.
It'll be another chance to chat with our team about Pit People and what we've changed since early access. Speaking of which…

Update 6 Changelist
For early access players, the full release is also known as Update 6. The changelist below covers all of the improvements and additions since Update 5 and the Update 5a hotfix.
*Spoiler Alert*
Some listed changes may include info from quests that newer players haven't experienced yet. Read at your own discretion!

===================================
Major content:
===================================
Final Four Multi-part Story Quests added. Pick up where you left off!
New story cinematics to go along with the newly added story quests.
New Pipistrella introduction cinematic (in tutorial levels)
One new World Map (that holds 15 new Bonus Missions) added.

===================================
Quality of life changes:
===================================
Favorites can now be marked in the House and will be listed first if sorted.
Your wagon now displays your location on the Survival Guide map.
Gate menu reworked for buying items and selecting Quests on the Questboard.
The HUD shown while traveling has been compacted and aligned.
Permadeath icon is now shown while traveling if playing in Permadeath.
World Maps (WM) now have names in the Survival Guide for easy reference.
New items added for creatures and humans.
Colored text now has a dark grey outline for easier reading.
Advanced and non-advanced cursor information art has changed.
AI planning hexes are more subtle so they do not visually compete.
Tweaked a large amount of dialogue in world map missions and story missions.
Minor adjustments to introduction levels.
Cinematic replaced in introduction levels.
New icons added into the How To Play help section.
More varied Unfair Challenge enemy teams, added 102 new teams.
Consistency fixes:

-Made sure "Red" is wearing the Raspberry cake batter skin in all places (she
was still using the Strawberry skin in Hardboil part 3).

-Changed appearance of "Kindness" WM entity in quest file to match "Kindness"
everywhere else.

-Added new "DianeHealed" entity to swap out with "Diane" entity once she's
Healed.

-Stage 1 battle of Sid the Necromancer quest (Lt. Splurt) now takes place in
a random WM terrain appropriate to the region Splurt catches you.
-Updated Gwennifer Blobbins to use the Blue Crew decoration helmet.

Non-elite NPCs on the world map now speak in that fighter type's language.

rather than a standard alert sound when they spot you. Elite NPCs play original enemy alert sound.

Quest Dialog Yosef frames should all now flip the hair of the character

based on the first player's Yosef hair selection from the arena tutorial.

Lots of non-gore art added for players who choose non-gore gameplay setting.
Scrumptious now awarded in spoils under certain condition.
Changed some requirements when attacking Scrumptious.
The 'elite' augment will now utilize red tint colors, so if an elite fighter is recruited they should retain their red tint (but not the elite particle effect) when you get back to the house. They do not keep any of their elite stat bonuses either, just their tint color.
New potential Spoils from missions

-Red & Nwar are now obtainable in the quest, "Get Smart".
-Gave Mushmancer his new Mush Masher mallet in mission, "Portabello Prayers".
-Added new ending sequence in Fresh and the Radicals with Hagatha and Nagatha that results in the player being awarded Nagatha in spoils.
-Sizzle Baron equipped with Excalibeef is now obtainable in quest, "Meat & Greet".
-Lumberjim is now obtainable in the mission, "Fort Ruffage".
-Primo is now obtainable during the mission, "Brunch with Death".
-Clortho now appears in the mission, "Sid the Necromancer" if the quest, "Grey Matters" is completed.
-Player is now awarded "Much Glamour" troll skin and "Fabulous" troll mom skin in spoils if they defeat Madame Megabat before the creature evolves atAll.
-Hotfix, Fungax and McCaffrey are now obtainable in the quest, "Invalid Loggin'".
-Prince Sipitation can now be obtained during the mission, "Champ of the Damp".

Improved World Map escort NPC teleport if they get too far behind — Previously escort NPCs would check their distance from the wagon and teleport to it. However, if we have multiple followers, then each one needs to check the distance to the one it is following and teleport to that position rather than to the wagon.
Standardized danger icons that appear on quest giver entities for WM quests — standardized the danger icons that appear on quest entities in world map quests. Quest entities that trigger a battle will show a danger icon underneath them. Quest entities that chase you (with a battle in mind) will show the danger icon underneath, and an alert icon over their heads when they notice you.
Riders on Spidaurs can now dismount to their current location. This will cost one move, regardless of the type of terrain they are moving onto (because they need an order to mark the location as occupied).

If the Spidaur has moved from the current location, then the rider will see a potential destination showing that they can dismount at the current location, and they will see a destination footprint when they add the order.

If the Spidaur has not moved from the current location, then the rider will will see a potential destination, but when they add the move order they will see a conflict footprint until the spidaur is moved to another location.

Fighters riding Gnomes or powering Battle Cannons must still move from their current location in order to dismount.

Added more special colored names.
Gnomes will earn XP for healing friendly robots.
Random battle terrain updates — Adjusted blue & red starting positions in various random battle terrains to prevent Troll Moms from starting in lava, terrain, etc.
Fixed missing collisions on world maps and levels.
New ambience (sound) added to the City and quests.
Renamed a few fighter names. IE. Renamed "Cankles the Shoe Gnome" to just "Cankles". "Peter Peter Child Eater" has been renamed to "Peter Child Eater" to prevent issues in menus. "Royal Pain" Gorgon skin is now the "Hisstory Maker". "Rump Trumpet" was replaced with "Mayor Rumptrumpet".
Pandora's weapon has been changed to the Demon Ball medium mallet.
Added a knockback to the Speckled Horseman arrival location right when he lands to prevent the text pointing to him from being in the wrong location.
Some side characters now appear in random world map encounters after completing story quests and are recruitable.
Reworded some objectives in earlier story missions.
The tournament reward helmets have been renamed.
Small updates to battle zones throughout the world map.
Updated world map names in the Survival Guide.
A few SFX added to some City quests & World Map missions.
Updated Mushroom, Hair Troll and Zombie recruit quests with new Whispers spawn Locations.
New voice lines added for Octoclops fighters and Troll Babies (Troll Minis)

===================================
Balance:
===================================
Rebalanced a few world map missions and story missions. IE. Necro Fort tent count in single player has been adjusted. New debuffs on a couple quest characters meant to be easy to defeat individually. Coop versions of levels that were too easy in coop.
Updated "Sole Survivor" quest enemy team to be more generally balanced Reduced number of Electrobots while changing buffs.
Adjusted the values of the following for balance purposes:

-Cyclops (health)
-Spidaur (damage)
-Hair Troll (defense, health, regeneration)
-Mushroom (health)
-Electrobot (health, chain lightning)
-Gorgon (snake spawn rate)
-Octoclops (ink chance, confuse chance)
-Thrown explosives (explosive chance on melee)
-Totally Unsafe (damage)
-Safety Last (damage)
-Sun Sword (damage)
-Pit Mace (crit chance, rename)
-Scorpion Stinger (element)
-Moon Mallet (crit chance)
-Curveball (stun chance)
-Useless Currency (pierce)
-Double Uzi (damage)
-Sofia's Musket (element change)
-Axes of Dad (weight, crit chance, damage)
-Killer Kukri (pierce)
-Shear Carnage (crit chance)
-Added weak acid back to Red Wrench as it was playing on the angle of beingtech and strong against bots.
-Any Mortar that was not working as intended was adjusted (bugfix+balance-ish)
Fights in general are anywhere from 1% to 9% more difficult than before.

===================================
Code:
===================================
If an online arena session is interrupted for one or more players, the host can allow players to attempt to rejoin.
Allow user to delete error slot.
Fixed online fighter visibility in arena lobby.
Reduced threshold for showing deflect icon from 25% to 0.
Fixed some issues with selecting 2nd slot of 2-slot fighter in house.
Hailey, Pandora, and Esteban can be sold or traded.
Fixed World Map music not starting again after a video played.
Play unique sound effect when Elite NPC sees wagon.
Elite NPCs only spawn if average level of player fighters is 15+ (subject to tuning).
Disable sell/trade before finishing intro levels.
Warn players that a quest will fail when returning to the city before completing it.
Disable City icon before intro levels are complete.
Fixed potential crash related to comm icons when going from battle to battle.
Fixed bug that would cause unfair arena enemy teams to be wrong if a player had dropped out.
Changed the join menu that appears during intro levels to allow for more flexible input device assignment.
World Map NPCs use the fighter's voice to indicate that they've seen the wagon.
Allow player to see other player's info when their name is selected as a ghost partner team.
Don't show invite button in arena lobby when a ghost partner team is active.
While on Sofia's recruit task, show quest NPCs and inform players that they need to come back later to activate the quest.
Don't show button prompts in the battle summary screen for spectators since they can't interact with that screen.
When CRT mode is on, render in a lower resolution and disable camera bob.
Fixed issue that would cause the world map chase music to stop playing if a battle transition was canceled while a chaser was active.
Fixed some issues with the button prompt that appears when canceling a video.
Fixed various instances where menu sounds were played multiple times.
Changed pitch change when collecting coins on the world map to follow standard musical scale.
Show Yosef with originally-chosen hairstyle when he appears in the city.
Play ambient audio in City.
Fixed issue that could cause progression bars in survival guide to show 100% even though progression was a little less than 100%.
Prevent awarding a specific achievement in PVP mode.
Fixed spacing with "press to join" message in Korean.
Fixed display of some Kobold skins in the House menu.
You can now hold down keys to scroll through the dungeon; scrolling is faster.
When returning to the city, if the wagon has more than 8 res/heal/nitro items, then the additional items are placed in lockers.
Fixed a case where icons would incorrectly appear in the world map after a quest was completed.
Don't allow players to re-roll quests before Sofia's recruit task is finished.
Players can sell fighters on the active team even when the dungeon is visible now.
Scale Yosef in the arena entry to match Horatio's scale.
Show up/down arrows in fighter stats to indicate whether a stat will go up or down when selecting new equipment.
Fixed a bug that caused an online session to be unjoinable when starting the session at the Space Phone and then going into an arena and having a user disconnect.
Audio during "join souls" animation is now controlled by the cinematics volume slider.
In PVP mode if all fighters die, victory goes to the active team.
Completed permadeath save slots are still retained so a new save slot is given the choice of skipping intro levels.
Improve ranged fighter AI to get into better range.
Increase the number of teams that can be created in the House.
Add a delay before players can dismiss the battle summary screen.
Fixed bug that would interfere with a level restarting.
Fixed bug that could cause two teams to share the same team slot in an arena battle.
Fixed bug that would cause a session to be unjoinable after a remote user disconnected while joining.
Fixed bug related to restarting a level when a ghost partner team was active and the player had permadeath enabled.
Fixed bug related to permadeath in specific levels.
Force default skin to appear in first slot in house.
Troll Mothers now handle fence collisions correctly.
Prevent adding spoils to a user that has disconnected.
Add a notification if players try to take a story quest but do not meet requirements.
Improve online synchronization of quest dialog.
Support tinted fighters.
Allow multiple followers to keep up better.
Fixed some issues with offscreen indicators for fighters during battles.
Allow Spidaur riders to dismount to their current position.
Gnomes get XP for healing.
Fixed desync bug related to Vampiress upgraded movement.
Award items when finishing the story.
Allow different fighter types to play different attack sounds.
Fixed a bug related to status effect duration.
Changed the way a Vampiress upgrades movement when moving within non-flying range.
Fixed sorting the terrain cursor and health bars.
Improved display of fighter names in battle HUD.
Added world map name display in Survival Guide.
AI prevents multiple melee attackers from ganging up on Mascot.
Remove yellow outline on destination hexes for AI fighters.
Show user name/gamertag in world map HUD.
Gorgon snakes and Troll minis are more likely to attack Mascots.
Changed permadeath prompt so A is off and B is on.
Fixed some issues with resetting settings to default.
Don't reset time of day when exiting city.
Added the ability to mask certain graphics.
Prevent some pixie wing animations from playing on world map.
Allow elite world map NPCs to be targeted by wagon cannon.
Added key bindings to move camera and wagon.
Fixed some issues with cannonball deflecting off elite world map NPCs.
Added offscreen indicator for fighters during battles.
Allow custom health bar graphics to be used for specific entities.
Fixed issue with cursor being moved during AI turn.
Added a delay before allowing player to confirm they want to delete a save slot.
Always allow camera control during replays.
Support goreless graphics in various contexts.
Show outline on colored text.
Replaceed some art text with localized strings.
Made bold text more readable.
Changed order of gameplay settings.
Improved cursor movement in online game.
Clamped camera position closer to playable area.
Improved inventory flashing clarity when wagon is full.
Now the Yes/No text is properly measured and scaled appropriately.
Added tint color to obituary portraits.
Simplified slow icon in house menu — Previously we showed two different slow icons in the house: one that represented the speed reduction of targets when affected by the giant's knockback slow and one that represented the selected weapon's slow chance. Now we just show the slow chance with the Cyclop's knockback chance factored in.
Set up gore frames for obituary menu items– The skulls will be replaced with X circles when gore is disabled..
Updated camera logic in local multiplayer modes.
Adjusted default master volume to be a little lower.


Platform specific code changes:

[PC] Allow mouse highlighting and clicking of Initial Permadeath prompt options.
[PC] Drag fighter to other player's view in house to start give/trade.
[PC] Improved mouse interaction with hex buttons in main menu.
[PC] Fixed issues when interacting with space phone menu with mouse.
[PC] Menu navigation sound plays when selecting list box items with mouse.
[PC] Fixed a bug that could reset preferences to default when joining a game via the Steam client.
[PC] Prevent certain text codes from being used in user names and text chat.
[PC] Created replays folder if it doesn't exist when the player chooses to open the replays folder.
[PC] Added support for DualShock model 2 controller.
[PC] Fixed various cases where mouse cursor glow didn't work correctly with some menu items.
[Xbox One] Fixed issue with receiving an invite while the game is suspended.
[Xbox One] Updated license info when resuming from suspension.
[Xbox One] Fixed an issue that would cause an online session to be unjoinable if a remote user had joined and then quickly disconnected.
[Xbox One] When an invite is pending, show the invited user's gamertag; only that user can join the session.
[Xbox One] Fixed a bug that could cause replays in some levels to fail to save on Xbox One.
[Xbox One] Improved user/controller pairing logic.
[Xbox One] Don't allow trial users to play with non-trial users online.
===================================
Misc:
===================================
Updated credits.
Updated ESRB rating screen.
All dialogue should have subtitles in the languages Pit People supports.