Happy New Years Eve! 2013 was a big year for us for so many reasons. We hit a lot of milestones including celebrating our 10-year-anniversary as a company, releasing our third title (BattleBlock Theater), hitting our 5th year after the release of our second title (Castle Crashers), and attending several new shows in the U.S.

We had a lot to be thankful for and we wanted to share our favorite moments with you. That being said, this is going to be a rather lengthy post but we hope you'll enjoy going down memory lane with us!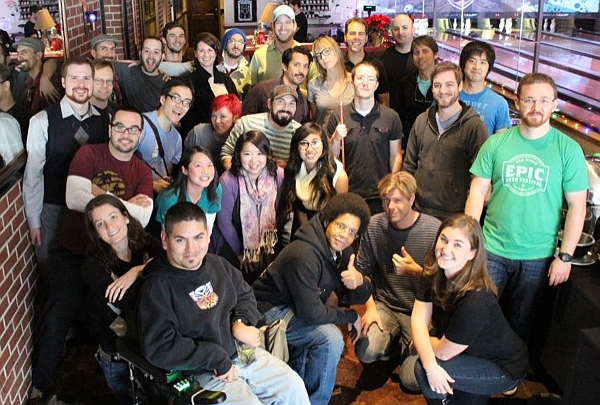 Winter Wonderland

At the start of 2013, we were still working on the final touch ups of BattleBlock Theater and prepared for our "Closed Beta" that would happen at the end of February and end mid-March. January was also the month we brought in a new face into the office: our new UX+QA Director, Lindsay!

To start off our personal favorite moments, here's Lindsay's:

"My absolute favorite moment is starting at The Behemoth in January, because it led to everything that came after… writing poetry for beta testers, Twitch TVing uncontrollably, playtesting my hot-crossed buns off, going to PAX with The Behemoth for the first time, and of course, helping the UX+QA staff be their best (I hope). So yeah, I just gave you the cheat answer. Like wishing for more wishes." -Lindsay, UX+QA Director

So speaking of the BattleBlock Theater Beta, we want to take this time to say "Thank you!" to all of our thousands of beta participants again. We had a jolly time working together as "memberz" in our secret beta forums and it was an invaluable amount of effort people put into playing the game, filling out surveys, and reporting issues with the beta version.


Just after the Beta ended, we headed over to Boston for Penny Arcade Expo. But before that, we announced the release date for BattleBlock Theater. It was the first time we dropped the line "buckle your pants" and we giggled at the thought of how many people would eventually say that once the game came out. It made everything at PAX East this year extra special for us and was super exciting to know we were so close to the completion of the game.

*A-ding-ding-ding-ding-ding! Release Date!*
"My favorite Behemoth moment in 2013 was shipping BattleBlock Theater." -Chip, Programmer

Spring Starts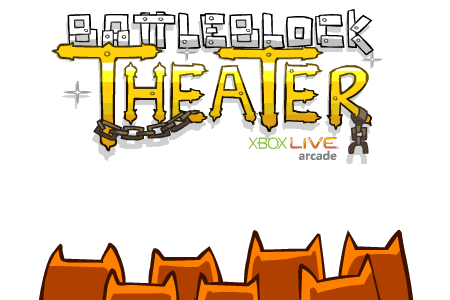 Finally, April could not come any sooner this year. Our pants were buckled and we had our eyeballs glued to our computers–we were working of course, but we were also waiting for the BattleBlock Theater Official Launch Trailer to go up and make things, well, official. YES, it's up! BattleBlock Theater went up on the Xbox LIVE store on April 3rd and our Launch video was up to prove it:




"My favorite Behemoth moment of 2013 was the day after BBT released. Aaron, Ryan, and I were scouring the internet and Metacritic reading reviews all day. We were nervous because we really REALLY wanted people to like the game. As the good reviews were pouring in, we were so ecstatic. We would send each other reviews we liked and read aloud our favorite passages from them. It was like Christmas for game devs!-Kyle, Level Designer

That month, we were busy with reading all the reviews, doing interviews, and doing one of our favorite things–connecting with our fans through our forums, Reddit AMA and Raptr Q&A. In the forums, we polled the fans to see what their favorite quotes and songs were from the game and released BattleBlock Theater Ringtones!

Also in April, for the first time ever we started doing live gaming streams via Twitch TV. Our playtime with the community was called "Play with the Devs," and we even had a few guest stars like Mega64 and Smosh Games. We plan on continuing these live streams in 2014 as well, so keep an eye out for the schedule!

Anniversaries & Summer Shows


At the end of May, the 27th to be exact, we reached our 10th year as a company! It's amazing to look back at how it all started with Alien Hominid and see what we've accomplished together in a decade. Here's our 10-Year-Anniversary trailer that we put together for PAX Prime:



While we did a mini toast in the office for the anniversary, we didn't really get to do a big celebration since we just started our planning for all the shows in the summer.



Our first summer show was in July, and we made our Behemoth debut at Rooster Teeth Expo with our arcade cabinets. It was an amazing experience to meet so many fans we had never had a chance to meet before. Our Texas buddies showed us how to have a good time that Fourth of July weekend!

"My personal favorite moment this year was doing the raffles and giveaways at RTX this year, especially since it was our first year there. It was fun getting the crowd hyped up and the best part was the chicken dance battles! So happy I got to witness such grace and gusto." Megan, Community Captain



A few days later, we made our way over to a closer venue: Giant Robot 2 in Los Angeles. For those of you who are unfamiliar with the California geography, it's only about a two hour drive from our office in San Diego. Our games were highlighted in their game night and we even held a Battleblock Theater arena mode tournament for the attendees.



The next week, we exhibited our games in our own neighborhood at the San Diego Comic Con. It was our 9th year in a row doing this con and we did not hold back in anyway. We brought out tons of merchandise, we had a Hatty character, we did a photo flip book booth and we had autograph sessions with our very own Dan Paladin, Tom Fulp and Eric Haddad. It was a packed 5 days!

"I got to meet Hatty in person and be his handler at SDCC!" -Anna, Plushsmith



We finally had a chance to get the whole team together and celebrate our company's anniversary during SDCC. Just blocks away from the convention center, we spent a few hours stuffing our faces with fajitas and throwing balls down a lane to knock down pins. It was glorious!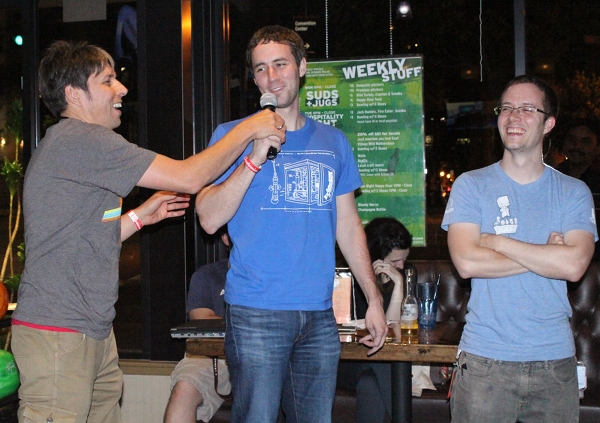 Then a few weeks later, we hit another important milestone: Castle Crashers 5th-Year-Anniversary!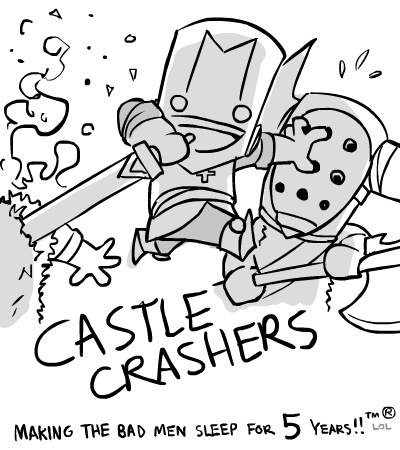 The five year mark was for the first release of the game on Xbox LIVE Arcade, but it has since then expanded to PlayStation 2 and Steam for PC and Mac. In November of this year, we even saw Castle Crashers get played on the tablet thanks to GestureWorks Gameplay! Thanks to all the millions of fans who continue playing this game even today.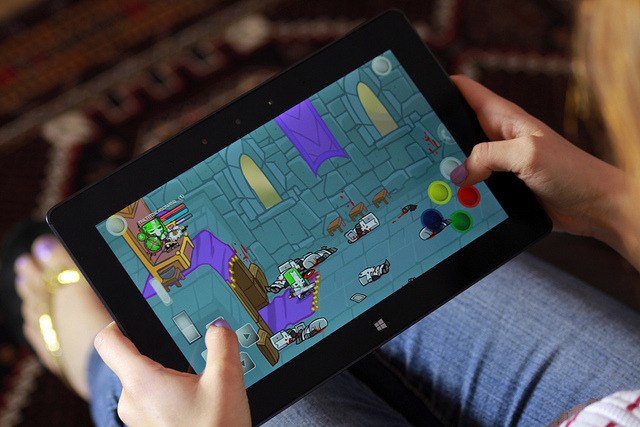 We continued the anniversary festivities at PAX Prime and brought a new ten-year-anniversary t-shirt! The weeks leading up to this show in August were also spent working on new versions of our arcade cabinets and we exhibited Alien Hominid and Super Soviet Missile Mastar in these arcade cabinets for the very first time at PAX Prime. We, of course, still had our classic Castle Crashers arcade cabinet and BattleBlock Theater cabinets. This served well when we started up some tournament style events! It was a week well spent in Seattle.


"My favorite Behemoth moment in 2013 was day 3 of Pax Prime – the day I exacted my revenge upon The Creatures in BattleBlock Theater." -Josh, QA Tester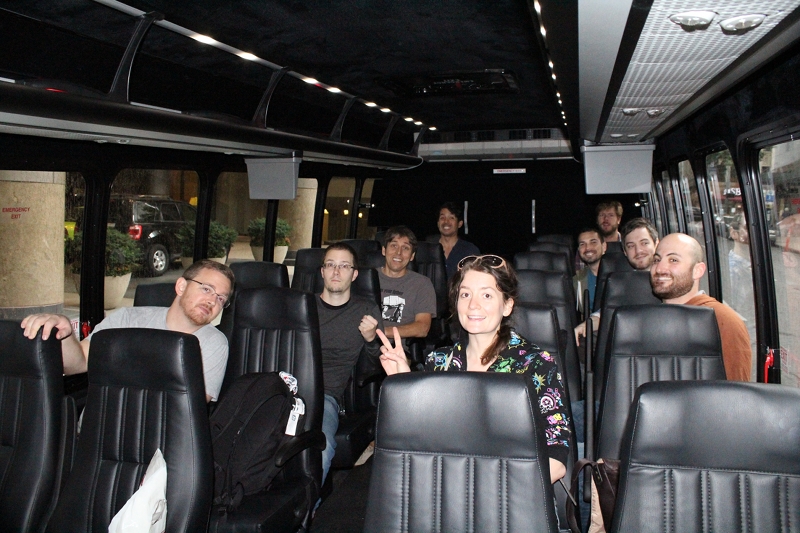 "My favorite Behemoth moment in 2013 was after teardown at PAX Prime when we all went out to a 1 AM exhausted dinner and stuffed our faces." -Ryan, Level Designer


We had a lot of "firsts" this year, and another nifty event for us was the Portland Retro Gaming Expo! We got to be amongst some cool games that would make any 8-bit fans swoon. With our arcade cabinets and 2D animation style, we felt right at home.

All the shows were amazing, but we do have to say that it's great to be back settled in the office and focusing on game development.

End of the year

It's sort of hard trying to fit all the events in October thru December into one category because they don't really fit with one another, so we're just going to list them out:

Halloween – It's one of our favorite times of the year because we love doing our annual Costumes and Carvings contest to see what fans create using our game characters. This year we changed it to Costumes and Decorations to broaden the accepted submissions.
Best Cooperative Multiplayer Award – Our first award for BattleBlock Theater! It was truly an honor receiving the trophy from Machinima Inside Gaming Awards–too bad we broke it at the end of the night! We were so ecstatic to win the award that we kept it with us during the celebrations instead of coat checking it. Luckily, the gracious people at Inside Gaming said they would get us a replacement. Here we are happily holding the trophy when we first got it:


Alien Hominid in a Museum – It seems fitting that our decade old company now has a game in an exhibition at a museum! Our first game from 2002, Alien Hominid, can be seen at the Museum of Moving Image as part of the Indie Essentials exhibit from December 14, 2013 until March 2, 2014. If you are in New York, please check it out! You'll be sure to hate loving the difficulty of the game.

Oh, and do you know who else in our team loves Alien Hominid? Our newest member of The Behemoth, Mason! Here's his favorite 2013 moment:
"In 2004, I remember going to a Gamestop, an Electronics Boutique and finally, a Funcoland to find a copy of Alien Hominid when it first released (I probably should have called first). Imagine my surprise, exactly 9 years later, I would begin my first day on the job @ the Behemoth. It's like fate, or coincidence, or something!" -Mason, QA Tester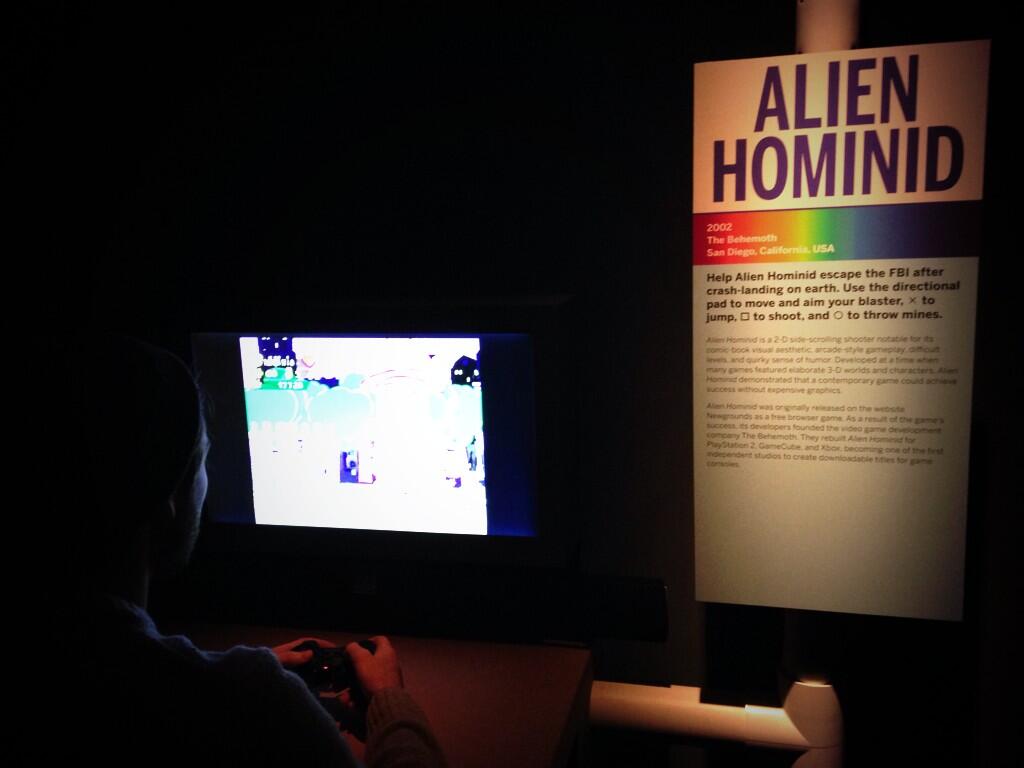 There you have it. 2013 in a rather large nutshell. It's like a walnut shell or whatever the largest nut is. We loved it. Now it's time to move on to 2014 and work on bringing you even more games!

Happy New Year!!!