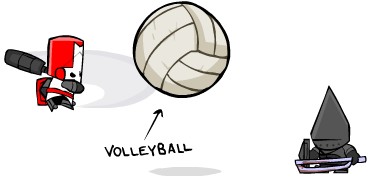 With all of the BattleBlock Theater news lately we wanted to be sure to update you on our other title we're working on, Castle Crashers for the PSN. Development has been going great and our awesome programming team has been quietly and diligently making the game run and look beautiful on the PlayStation 3. Although we haven't narrowed it down to a specific month yet, we're still on track for a release this year.
With that said we have a new volleyball minigame that's headed for the PSN version of Castle. Here's some of the finer points presented to you in beautiful bullet point technology.
* Play co-op or vs your buddies
* Local or online play
* Play with up to 3 other friends in multiplayer volleyball.
* Add AI teammates or opponents for up to 4 on 4 matches
* Play as any character you have unlocked
* Variable stats based on character
* Use magic attacks to place 8 new magic status effects on the ball
* Cool new serving and spiking moves
* Play 1, 3 or 5 matches against your opponents
* Leaderboards to track the best in the land
We'll try to get some screenshots going in the next few weeks or so, but it might get pushed back a little as we're headed to Tokyo and Boston at the end of March. Speaking of which, if you didn't already know we'll be attending both the Tokyo Anime Fair and PAX East around the end of March. So if you're in Tokyo or Boston come on by and say hello to us. It's the first time we've done two shows on the same weekend so we're very excited about that. Both BattleBlock Theater and Castle Crashers will be in attendance at both shows. New year, new shows, new demos. 2010 is the year of The Behemoth.
-Emil-