This weekend, enjoy Arena Features in both our XBLA and Steam editions of BattleBlock Theater! We've seen a lot of cool playlists in just a week after the game released on Steam. We're excited to start featuring new user made playlists in BattleBlock Theater Steam edition and give some extra attention to the Greatest Hits in XBLA.
Get a sneak peek of the selected Arenas in these forum posts by Aaron:
XBLA:
SS Friendship by a real man mfc
Steam: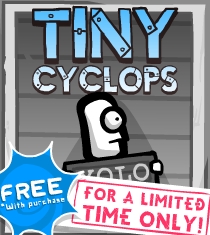 Finally, if you're looking to get another prisoner unlock, well you're in luck! We've unlocked Tiny Cyclops on all platforms for BattleBlock Theater and you'll get it just by heading towards an online feature in game.
If it hasn't already, it'll blow your mind seeing this creature roam around the stage and gift shop! Enjoy the weekend!