We thought it was final, and we suppose it still is Final — here is the return of The Final Unicorn. Look at it and all the majestic glory it represents!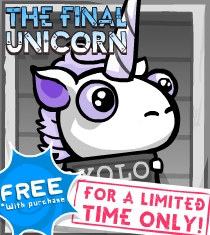 BattleBlock Theater players will have the chance to unlock this reward when completing either the solo or co-op playlist in Furbottom's Features. This week we have updated the solo playlist in Furbottom's Features for both XBLA and Steam versions of the game:

Furbottom's Features Updates

XBLA Solo Feature:
Chapter1 story by justmalice
Difficulty level – Easy
A walk in the laser and buzzsaw filled park. Playlists of this difficulty will be a smooth experience full of interesting ideas more so than relentless challenge. These will generally be easier than the original Story mode campaign.

Steam Solo Feature:
Happy Camp by Stan_
Difficulty level – Intermediate
Oh, the lovely middle. The greenest grass will occasionally be right here, firmly content to be on the fence. Levels in line with the difficulty of the original Story campaign will be here. Expect some challenge, but nothing too strenuous.