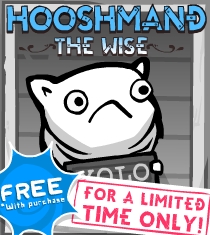 It's time to wise up, BattleBlock Theater players. That's right. You heard me. It's return of Hooshmand, The Wise!

If you haven't already received this feline friend, then it's best to load up BattleBlock Theater today and head towards an online area to unlock the prisoner. You won't want to miss this rare chance!

And while you're in BattleBlock Theater anyway, you should check out the awesome Arena Feature we just updated. These two playlists were honorable mentions in our recent Arena Playlist Creation Contest:

XBLA Arena Feature:
CaptureTheDuck by LevelDesignGuy

Steam Arena Feature:
Gold & Glory by Mini-Suite for Duke

Click on the links above to read more about the playlist and see pictures to preview the levels. Happy playing!