It's that time of year again! We've packed up all of our things and moved them a few blocks away to the San Diego Convention Center. This is our 10th year as a video game company and our 9th year at SDCC!

Ten years calls for big celebrations at our home base. Not only are we bringing back the custom built arcade cabinets with free-to-play BattleBlock Theater and Castle Crashers, we're bringing new The Behemoth merchandise to the gift shop. And the awesomeness doesn't stop there.
New Events Happening at
The Behemoth Booth #229: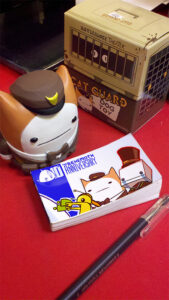 HATTY HATTINGTON OF
BATTLEBLOCK THEATER
Take your photo with Hatty Hattington from BattleBlock Theater! He'll be walking around our booth from Wednesday to Saturday.
AUTOGRAPH SIGNINGS
Meet The Behemoth co-founders, Dan Paladin and Tom Fulp! And introducing our newest artist, Eric Haddad! They'll sign your stuff and if you're really nice they'll take a picture with you.
THE BEHEMOTH FLIP BOOK STATION
On saturday, you and your friends will be able to perform in front of a camera and take home a flip book of your performance! Free with a purchase of $10 or more at our gift shop. First come first serve!
---
Schedule:

WED, JULY 17 (Preview night)
Gift shop & arcade Hours 6pm – 9pm
Hatty Hattington Hours 6pm – 8pm
THURS, JULY 18
Gift shop & arcade Hours 9:30am – 7pm
Hatty Hattington Hours 5pm – 7pm

FRI, JULY 19
Gift shop & arcade Hours 9:30am – 7pm
Autograph signing Hours 2pm – 4pm
Hatty Hattington Hours 5pm – 7pm
SAT, JULY 20
Gift shop & arcade Hours 9:30am – 7pm
Flip Book station Hours 10am – 2pm
Autograph signing Hours 2pm – 4pm
Hatty Hattington Hours 5pm – 7pm
SUN, JULY 21
Gift shop & arcade Hours 9:30am – 5pm
Autograph signing Hours 2pm – 4pm