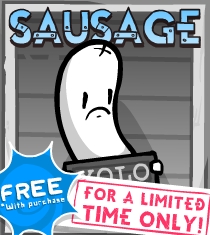 Nothing better to kick off the weekend with than a summer sausage. We've kept this guy in the Theater fridge since last Independence Day, but it seemed like a perfect weekend to bring it back to the stage. It's going to be a delicious performance!

And while you're in the Theater already, be sure to check out the Arena Features! We've refreshed the playlist so you have something new to play this weekend:

XBLA Arena Feature:
Coloring Book by RAIDER H

Steam Arena Feature:
River Brawl by Ten_Tacles

Have a great summer! K.I.T.