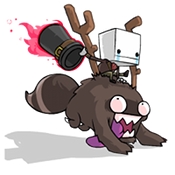 A year ago we released BattleBlock Theater on Steam. Since then we have released over 64 special star unlocks, have over 1 million players play the Steam version, have thousands of community-made levels in the Steam Workshop, and have seen countless works of fan art. It's truly, truly…outstanding! Let's take a quick virtual walk down memory lane and watch the Steam Launch trailer:


We hope you've enjoyed our Steam Version with "co-opshunal campaign mode," "arena modes," "level building & shading," "wepun swiching," etc. Thank you to all of the players who have made the BattleBlock community so awesome!
---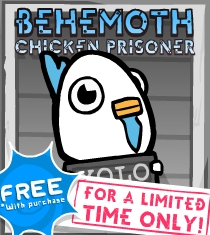 This weekend, we've brought back the Behemoth Chicken unlock in both XBLA and Steam versions to celebrate the one year release since it was our first special unlock when the game came out. You'll be able to get it as a reward for completing the Furbottom's Features solo or cooperative playlist. Our latest feature update is the solo playlist:

XBLA Solo Feature
The Holidays by VvBarracudavV
Difficulty: Easy

Steam Solo Feature
The Block Mines by metz
Difficulty: Intermediate

If you've enjoyed playing BattleBlock Theater, follow us on Twitter, and let us know with #BattleBlockTheater or #iloveBattleBlock. Or leave a comment below!