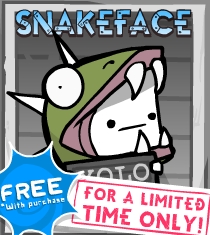 It's Friday! And it's a good one. Know what this means? It's time to suit up with your fanciest duds and load up BattleBlock Theater for some Furbottom's Features!

As a reward for your efforts in Furbottom's Features, we'll give you our most fanciful suit after you complete either the solo or co-op playlist! You'll be able to rock out in any level as our Snakeface special prisoner.

If you don't get an unlock notification, then you may already have Snakeface! Just check your list of Star prisoners in player set up to be sure.

Here are the new co-op playlists in Furbottom's Features that have been updated for this month:

XBLA Co-Op Playlist:
Chapter2 2P by Logan s Miller
Difficulty level: Easy
A walk in the laser and buzzsaw filled park. Playlists of this difficulty will be a smooth experience full of interesting ideas more so than relentless challenge. These will generally be easier than the original Story mode campaign.

Steam Co-Op Playlist:
RunningMan coop by razavimday
Difficulty level: Expert
Expert difficulty playlists will be challenges even for BattleBlock veterans. These levels are put together with no regard for the safety of your prisoner. Innovative and deadly exercises await inside these demanding levels. Doubly so on Insane Mode!

*A special note regarding Prisoner unlocks: Remember you can complete either Story mode Furbottom's Feature to unlock this week's featured Prisoner. If the Co-Op Feature is too hard, try Solo and vice versa! You can even recomplete current Feature's you have already played!