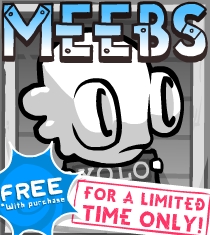 There's no creature more magnificent than me… unless it's Meebs! Yes, our kimo-kawaii (translation: "cute, yet creepy") friend is back in BattleBlock Theater for a limited time only. Just load up the full version of the game to unlock Meebs.

Also up for a limited time only are our new featured arena playlists in both the XBLA and Steam editions. Click on the playlist names below to get a better idea of what's to come when you play the Arena Feature:

XBLA Arena Feature:
Red vs Blue by Brutal Berserk

Steam Arena Feature:
Note: If you have already unlocked Meebs in the past, then you will not get a notification for the unlock.