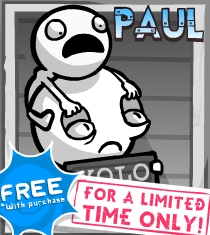 With our upcoming trip to PAX East 2015, we've been busy, busy, busy! Needless to say, we're feeling a bit lethargic like Paul from BattleBlock Theater. But just like Paul, we've got to keep our eyes peeled open and keep moving forward–especially if we're to avoid slipping on ice patches in Boston with the crazy weather they've been having! (We're a bunch of Southern Californians heading to a real winter.)

This week, we've unleashed Paul again in BattleBlock Theater and he's ready to perk up to solve puzzling puzzles and be your best guy in the Arenas. Speaking of Arenas…

XBLA Arena Feature
Tofu Beginings by allmycats13

Steam Arena Feature

Enjoy the weekend and these newly featured Arena playlists!