Update on 2/4/2015 : Now that the entries have starting coming in, you can vote using the same Contest Page as the one we have for entries. Just click on the "Vote" tab on the page and vote for your favorite entries. (Call for entries ends on 5PM PST, February 14, 2015. Voting will go until Noon PST on February 17, 2015)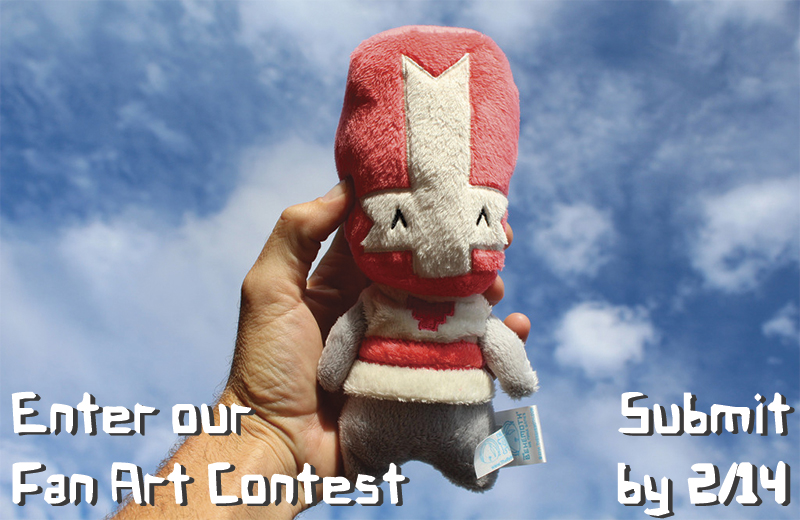 We're looking for that special someone who can create awesome art to share with their fellow Behemoth community members. Show us what you can create and enter it in our fan art contest! Creation can include any character from any of our video games. We'll select our favorite 3 submissions + 1 winner based on community votes, and those winners will receive a Castle Crashers Pink Knight plush!


RULES:
-Your entry must be your own creation (or something you did together with family or a loved one).
-You may enter up to one submission per person per day. (Repeat entries of the same art will be deleted)
-Acceptable mediums include: scans of drawings/images, photographs of your creation
-No costumes for this contest (we have a separate Halloween contest for costumes/cosplay in October)
-Submission should include a video game character can be from any of our games: Alien Hominid, Castle Crashers, BattleBlock Theater, Super Soviet Missile Mastar, Alien Hominid: PDA Games, Game 4.
-No nudity, offensive language, or vulgar images will be accepted (we have the right to decline any images we feel fall under this section)
-Entries must be submitted before 5PM PST on February 14, 2015. Winners to be announced on February 17, 2015.
-You must be okay for the prize to arrive up to 3 weeks after February 17, 2015.
-Anyone under the age of 18 must have approval from parents before submitting their entry.
PRIZES:
-At least 3 entries will be selected as winners (3 chosen by Behemoth and 1 winner through the community votes)
-Winners will get a Pink Knight plush (shipping will be included).
-Winners will be contacted via the e-mail used to register (or Twitter/Instagram handle).
HOW TO ENTER:
-You can upload your image here: Contest Page
–Or you can post on Twitter, Instagram, or Facebook using the hashtag #behemothfanart