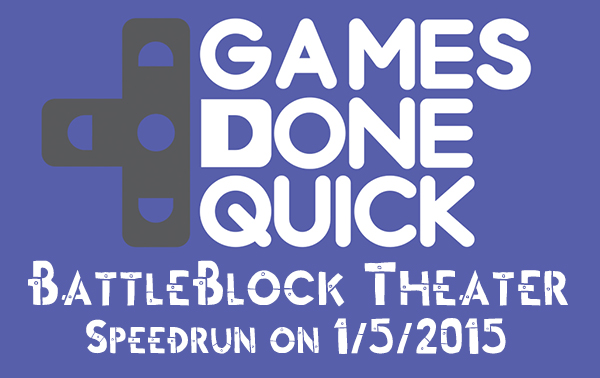 The amount of time spent perfecting a speedrun can be off the charts since speedrunners will learn the ins and outs of a game to find the fastest ways to the end. We certainly respect all the hours any player puts into the games we've made. We've seen numbers as high as 300 in hours spent playing BattleBlock Theater Steam!

Next week, two players are putting themselves up to the challenge of finishing BattleBlock Theater Steam within 2 hours and 45 minutes while playing cooperative story mode. PJDicesare & MechaRichter are playing in the 2015 Awesome Games Done Quick (AGDQ) event on January 5th, 5PM PST (8PM EST). AGDQ 2015 is a live speedrunning event that will benefit the Prevent Cancer Foundation.

During the BattleBlock Theater segment, our co-founder & art director, Dan Paladin, and our game narrator, Will Stamper, will be joining the event via Skype. During the live stream of the event, Dan and Will are going to give dev commentary along with the host of the event and two other speedrun commentators. You'll be able to ask us questions while watching PJDicesare & MechaRichter go as fast as they can through the treacherous Theater stages.

Come join in on the fun! Do what we're doing and watch from home or your office! You can watch on the Games Done Quick Twitch page or watch it on their website on the day of.

Finally, since this is a charity event, we hope that you'll consider donating to the Prevent Cancer Foundation through the Games Done Quick website. They will be posting information on how to donate in the next few days.

Until then, let's go back and clock in some more hours in the game! How fast could you beat the game in one sitting?