We've been very fortunate to create the kinds of games we want to make and continue making them because of support from fans, fellow developers, gaming sites, and, of course, our loved ones.

It really means a lot to us to see our creations get played, to read the emails or letters, to see the fan art, and to meet our supporters in person at expos we attend.

From the bottom of our hearts, thank you! Now that we've got all the sentiment out of the way, it's time for some Turkey!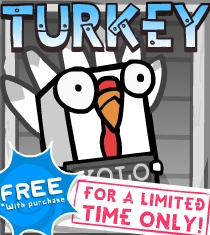 Load up BattleBlock Theater and head towards an online area before December 4th to unlock Turkey!

Enjoy your Thanksgiving weekend!