We have good news! Blocketeer and Moose will stay up over the weekend, but we're giving you another special unlock today too!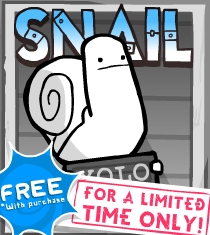 To fit the sluggish summer we're experiencing due to humid San Diego weather, we're unlocking Snail! All you'll need to do is load up BattleBlock Theater and make your way to an online area. Getting the Snail will be that fast!
Just make sure your Snail doesn't get a-salted in the featured Arena playlist!
We are keeping the Behemoth created playlists as the Arena Feature at this time since the Arena Playlist Creation Contest is still open until August 15th.
Reminder: Special unlocks in Steam will not be available to sell or trade until after they are no longer available to unlock in game. Click here for the specifics on that.