What came first, the momma chicken or the egg?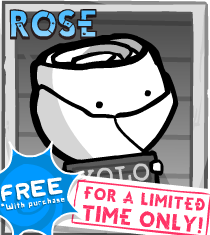 Does it matter? Respect your mom and tell her Happy Mother's Day this Sunday! As our newly formed tradition holds, we're releasing Rose again in celebration of this warm and fuzzy holiday.
If you didn't get it last Mother's Day, you'll need to play through Furbottom's Features on BattleBlock Theater XBLA and complete the full playlist before you unlock this special prisoner. Check out the encore Co-op Feature on our Forums HERE. Good luck!