Some of you may have already received your present early this year on Cyber Monday when we snuck this little guy out of the prison cell for a small breath of fresh air. If you got a chance to grab the gift during its one day release, kudos to you for your superb timing when it comes to playing BattleBlock Theater.

Back for Xmas, and the rest of December, we present to you your present: CyberMonday!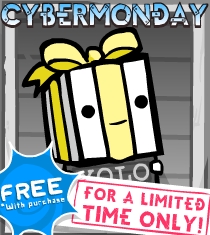 Yes, this adorably wrapped prisoner has been released into the world of the Theater! All you have to do to get it in your entourage of characters is load up the full version of BattleBlock Theater, head over to the Furbottoms Features section and it will automatically unlock before you even play the levels!

Enjoy your holidays, and don't forget to complete our specially made playlists before we take them down!