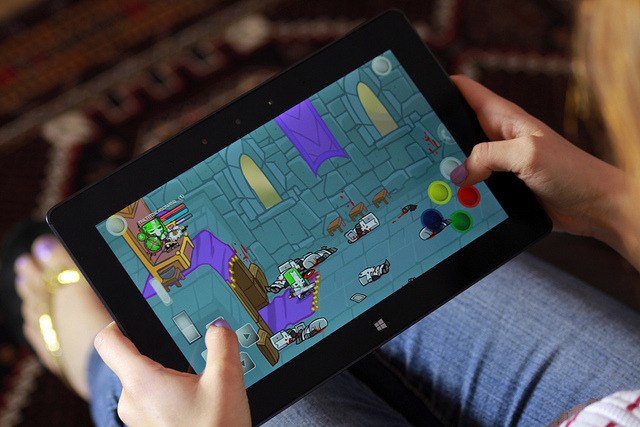 If you have ever wondered what Castle Crashers would feel like on a tablet, then you should definitely check out this great application called GestureWorks Gameplay. Gameplay software for Windows 8 lets gamers use, build, customize, and share Virtual Controllers for touch, which are overlaid on top of existing PC games, such as Castle Crashers Steam Edition.

Here's a look at the upcoming tablet app, which comes out November 5, 2013:

You'll be able to take Castle Crashers practically anywhere!
The video above shows a demo of the controller running on Castle Crashers using GestureWorks Gameplay. One of the best parts of this controller is that you'll be able to design virtual buttons and make custom gestures as well. Sounds pretty good to us!

If it's starting to sound good to you too, you don't have to wait until November 5th to try GestureWorks Gameplay. You can sign up for their beta now and the beta is scheduled to start October 5, 2013. As an added incentive to getting a first look at this new application by Ideum, the next 1000 beta testers will get a free copy of GestureWorks Gameplay when it releases in November!

Another benefit of joining the beta is that all beta testers have a chance to be randomly selected for a free copy of Castle Crashers Steam Edition! Ideum and GestureWorks will be choosing 50 people, at random, to get a free Steam key to unlock our medieval action adventure!

Anyone can sign up at: http://gameplay.gestureworks.com
Those who have signed up will receive emails inviting them into the Beta program starting on October 3rd. The giveaway will continue through October until 1,000 additional free copies of Gameplay are claimed.
---
Leave us a comment below and let us know what you think. Will you join the beta?