Happy Friday to all The Behemoth chickens out there! There are a few things we have to talk about today and we'll start off the day with Furbottoms Features in BattleBlock Theater and how you can get two new prisoners starting today!
We are changing up the Furbottoms Features schedule slightly so that each week can focus on one area of featured playlists. This week we will only be switching out the Solo Furbottom's Features Playlist, then next week will be arena feature, the week after will be co-op featured playlist, then another week of arena feature change, and finally back to solo featured playlist. New rotation and nothing too complicated, so I'm sure y'all will get the hang of it quickly.
We will still be giving you a special prisoner with each Solo or Co-op featured playlist in Furbottom's Features, so you'll still be getting a star prisoner every two weeks (at least!).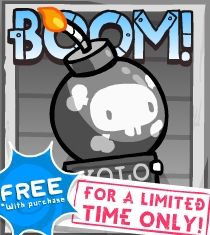 This week, we have TWO prisoners for you! Our first is BOOM!. You know that this prisoner is fiery and exciting. When others see you playing with this character, they'll know to watch out for you. You have to finish the complete the entire SOLO playlist in Furbottom's Features in order to get this prisoner, but once you do, you'll know that YOU DA BOMB!
Okay…enough cheese for now. Moving on…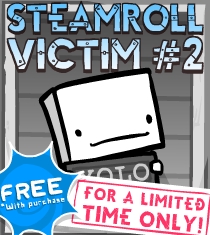 We've made our #2 prisoner easier for you to obtain in the game. All you have to do is log in to Xbox LIVE, load up your full version of BattleBlock Theater, head over to Furbottom's Features and Steamroll Victim #2 should pop up while you're still in the menu! This prisoner is only available for a week or less, so make sure you log in soon!