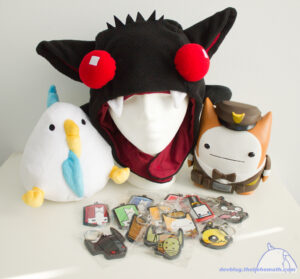 In two weeks, The Behemoth will be in Boston for the Penny Arcade Expo at booth 512! Here's all the fun stuff we're bringing:
Last year, we did a Kickstarter project which enabled us to create a collection of Necromancer goods. We're bringing all of these Necromancer items to PAX East, along with the new Necro belt buckle that just arrived last week!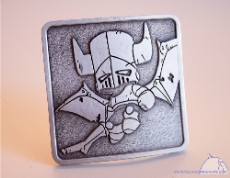 Necromancer Collection

We're also bringing never before seen (or smelled), vinyl key chains of characters from all of three of our games!
Red Knight Key Chain
Blue Knight Key Chain
Green Knight Key Chain
Orange Knight Key Chain
Pink Knight Key Chain
Barbarian Key Chain
Hatty Key Chain
Raccoon Key Chain
Alien Key Chain
Necromancer Key Chain
Thief Key chain
Cat Guard Key Chain
We've also got an awesome new huggable Behemoth Chicken Plush and a new Bitey Bat hat to keep your ears warm, both designed by our very own Anna The Red! Not to mention all the other cool stuff:
Hatty Skate Deck (Image to the right.)

Cat Guard Dog toy
(Production version w/o box. Limited quantities.)
Finally, we've got a bunch of new t-shirt and hoodie designs for Boston! Click on the links below to see each design up close.
The PAX East 2013 exclusive t-shirt will be announced next week! 🙂 We'll see you all in Boston at Booth 512!