You asked for it, and we listened. The single most requested character will be joining the battle on PSN on February 8th; in brand new additional content for Castle Crashers. We give you…. the Pink Knight!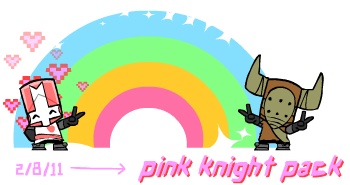 Born out of popular demand, rumor, and Tom Fulp's Beard, the Pink Knight is ready to bring the love in. The playable Pink Knight will come packed with the Lollipop and 4 other brand new additional weapons. Warning: Adorable.
The Pink Knight Pack will be available on PSN for $1.99 and 100% of The Behemoth's revenue from Pink Knight pack sales will be donated to charities devoted to Breast Cancer Research.
Now before you become sad dear XBLA fans, remember Behemoth loves you too. We are working hard on a title update for XBLA that will feature the Pink Knight as a playable character as well. In the coming weeks we'll have some more updates as to how and when this update will occur, and most importantly what will be included.  Rest assured, Pink Knight is coming for you too. With love.