It's the 2nd Friday the 13th of the year!  Which means multiple things: Stay away from Crystal Lakes, hockey masks and cabins in the woods…  But more importantly, it means it's another weekly installment of Furbottom's Features!  This week we will be featuring Arena playlists created by the community.  Which is really quite fitting given the holiday (Yes, Friday the 13th is a holiday).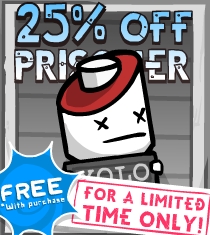 Speaking of "fitting" for the holiday, the prisoner that will be released today when entering Furbottom's Features will be none other than 25% Off Prisoner.   Please note, this special lil' guy will only be available for a limited time.  If you already have 25% Off  in your list of Star prisoners, then you will not be receiving an unlock notification.  True story.
Here are this week's updates in Furbottom's Features:
XBLA Arena Feature:
Steam Arena Feature: 
Safe Journey!