Yes, you read that correctly! After spending the year diligently prepping for the invasion, the aliens plan to land on Earth in 2023. We are so excited to finally share our fifth game, Alien Hominid Invasion, with the world next year.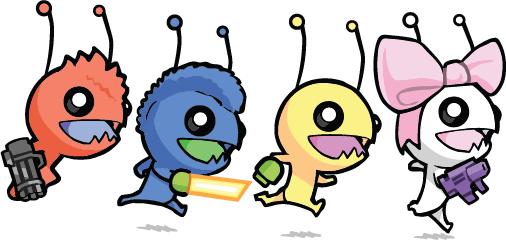 As the year comes to an end, our team is working hard to create exciting, memorable bosses that players can look forward to battling throughout the invasion. We can't wait for you to test your skills!
But what about everything else we've added to the game this year? Here are some quick highlights:
Difficulty options – We added Permakeep and Permadeath options, adding another layer of difficulty for players! Also, difficulty level (Friendly, Normal, and INSANE!) can now be changed within each save file and player profile, so that everyone can have the perfect amount of challenge. Adjust this as you wish, so the game is not too hard, not too soft, but juuuuuust right.
New enemies and challenges – Along with checkpoint levels and shiny new (and sometimes spiky) hazards, we added new enemies like the Bounder, Inchworms, and Big Crabs to sprinkle a little variety into your invasion and keep the chaos rolling!
HUD redesign – The HUD has been completely overhauled since the beta, with the danger meter now visible on the bottom of the screen. Player details such as health and mutation level now follow the player and take up less space on the screen, leaving more room for extraterrestrial chaos!
Delightful interactions – The Mothership now knits you back to life after you fail a level. Cute, right? In true mom fashion, she'll also send some passive-aggressive texts if you don't upload your gathered intel fast enough. Best not to upset mom!
Aaaand that's about it for our quick 2022 developer recap. We're excited to see what 2023 (and the invasion!) has in store. Still searching for more intel? Check out our newly improved AHI website here, and stay tuned for our next dev stream coming early 2023!