We're excited to announce our Alien Hominid Invasion Steam Beta coming Nov 12th – 14th.
There's a mothership load of additions and changes since our last demo that we can't wait to show you. New weapons, agents, bosses, objectives, music and more! Once again, you'll be able to taste test Alien Hominid Invasion from the comfort of your own home!
You can sign-up, starting right now! Just head to our Alien Hominid Invasion Steam store page (https://bit.ly/AHISTEAM) and look for the 'Playtest' button and request access.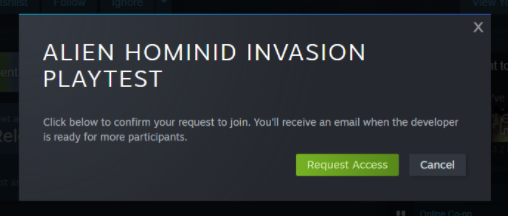 For other questions about the Beta, we put together some frequently asked questions you can read through over here: https://bit.ly/AHIFAQBETA
We'll have more information in the coming weeks, but if you want to keep up to date with the latest information join our Discord server and talk to us or something. https://discord.gg/thebehemoth