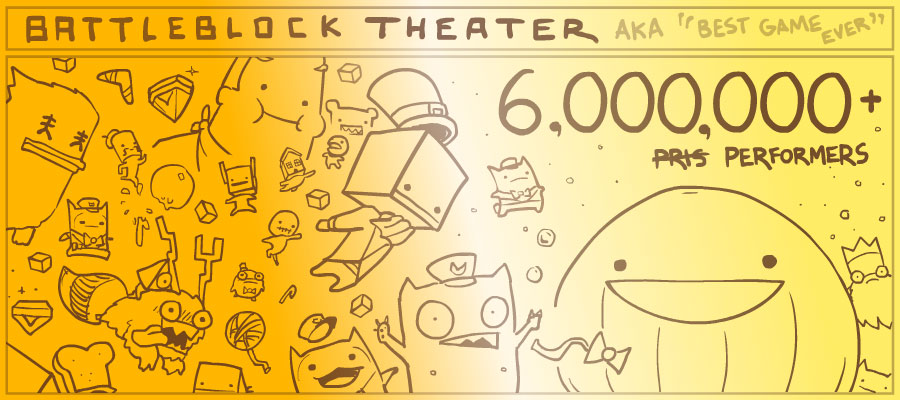 Our third game, BattleBlock Theater, was released a little under four years ago — first on Xbox 360 and then on Steam a year later. In 2015, it was added to the list of Xbox One Backward Compatibility titles as well. We like to consider it a delight and can only hope you agree!
This launch trailer was originally posted April 3, 2013! Time flies!
Earlier this week, we hit a couple big milestones on our BattleBlock Theater leaderboards: 4 million players on our XBLA leaderboards and 2 million players on our Steam leaderboards! Over 6,000,000 prisoners performers have made their debut on the Theater stage in just a few years!!!!
It's hard to even imagine all those people at once, isn't it? But we try anyway and we think it looks pretty epic. We are all so grateful to have had the game played so many times by so many people. Hatty Hattington seems to be making new friends every day while Purrham Furbottom's Theater remains just as bustling as its former glory.
Thank you to everyone who played BattleBlock Theater! Thank you to everyone who built levels for everyone in the community to enjoy, and thank you to everyone who ever streamed, reviewed, criticized, listened to, looked at or talked about BattleBlock Theater.
To celebrate this momentous occasion, we will be putting all BattleBlock Theater merch items in our online store on sale next week! BBT items will be 15% OFF from March 27th thru April 2nd, 11:59PM PST.
Thanks again for everyone's support all these years! We shall use this positive energy as we swing into the last big completion wind of our next game, Pit People (Available now on Xbox One and Steam via Early Access!).