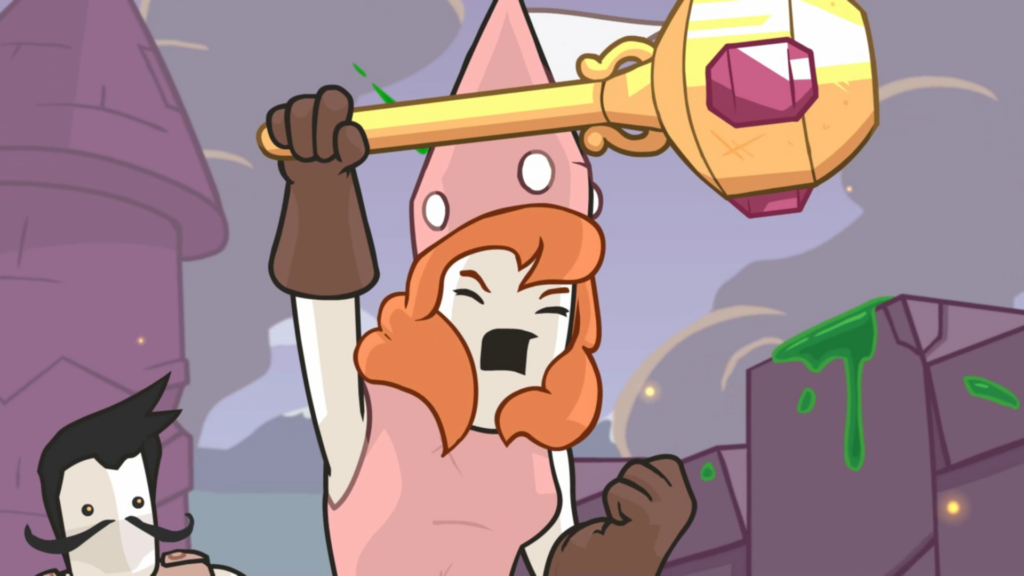 With the Pit People Early Access & Xbox Game Preview launch coming up this weekend, you must be curious as to what we'll have right off the bat! In our Early Access Announcement post, we gave a quick overview of what modes will be available on both Steam and Xbox One:
The Pit People Early Access experience will include a sizable chunk of the Story mission, plus access to several world maps (yes, there are more than one!), quests, Unfair Challenge against the AI, and Versus mode. The game can be experienced as a single player or two-player cooperative mode. Additionally, versus can be played with up to 4 people in 2v2. All multiplayer modes can be played locally or online!
Now, if you've never played Pit People before and want to go in spoiler free then we recommend looking away at this point. Below is a changelist with a majority of the updates we've made since the Pit People closed betas in 2016!

If you played the Pit People closed beta, here are changes you may notice, especially if you play through the tutorial again:
Overall bug fixes
Texture optimization
Adjustments to Horatio's intro level
Papastrella\Pipistrella cinematics updated
Adjustments to Bully Beach
Bridgeside Bandit cinematic added
Help section moved to first layer of pause menu
Help section updated
Survival guide updated
Gore setting adjustments
World Map Wagon animations added
Improvements in artwork for more clear planning phase
More commentary narration in battles (more to come)
Various HUD and UI improvements
More fighter names added
City art updated
Prices of House slots altered
Character animations updated
Hundreds of unlocks added
Kobolds now customizable
Troll Moms now customizable
Rainbow Horses now customizable
Overall balance "nudges" to characters and weapons
More City music tracks
More battle music tracks
Blue Player 2 color changed from Purple to Dark Blue
Damage flags now show Blue Player 2 color and Red Player 2 color
Spectators can now see player cursors
Replays are now saved on disk rather than cloud save
Pixie voice added
Pandora voice added
Rainbow Horse voice added
Added 30 more Bonus Missions
Added 4 more Side Quests
Added 2 more World Maps
Online Arena Lobby anonymity changed from manual control to game-automated
English subtitles updated
A portion of supported languages added in subtitle options
Players can start an online session with a ghost partner team and spectators can join
Notifications are shown when the ghost partner team is activated or deactivated
An "MVPP" is now shown in battle results
The game automatically disconnects from an online session if host player is alone and idle for 5 minutes
The house shows the first local player's roster count and total kill count
The market refreshes after a vs. battle is finished
Completed quests are turned in to the city immediately, letting you stay on the world map and take on more quests
A warning is shown when a player tries to sell an item or fighter but has maximum gold
Text chat is available regardless of controller mapping
Players can disconnect from a network game via the pause menu
Videos are paused when player switches focus
A cinematics volume setting was added
The comm icon menu can be used whenever the auto-battler is active
Push to talk is on by default
Tournament points are awarded even if the system clock is up to 15 minutes off the server clock
Fighters can still heal fully by accruing enough experience points at max level
Narrator commentary was added in various contexts e.g. when a fighter dies
Players can choose instant text speed
Players can't have more than 10 of most items now
When a player has the maximum number of an item and receives a new one, they receive 85 gold instead
Gore is turned off by default in Germany and Australia
Steam: The wagon can be driven with mouse
Steam: Clicking anywhere dismisses one-button prompts
Steam: There's now a button to open the replay folder
Steam: Some Nyko and Saitek controllers are now supported
Steam: Players are given items for ownership of Castle Crashers and/or BattleBlock Theater
Xbox One: Players are given items for ownership of Castle Crashers Remastered

More quests, collectible items, story missions, world maps and other polish will be worked on throughout Early Access and those changes will be updated in along the way. The aim for full release is to be no longer than a year but no shorter than a couple months.
We can't wait to launch on Friday and have you be a part of this journey towards completing Pit People for Xbox One and Steam!