HOT OFF THE PRESSES! New Pit People Fighter Hoodie!
It's that time of year where we get fancy new gear to give holiday cheer! We've just added several merch items to our Online Store!
The Pit People Fighter Hoodie that you see above has never been shown or sold before today. The design is based on one of our most popular Pit People t-shirt designs, but in a warm and cozy pullover hoodie edition. Now you can still show off your favorite Pit People creatures even on the coldest days of winter!
The photo has the hoodie modeled by our very own Ian Moreno. For those of you who have played the Pit People demo or beta, you may recognize his voice as Yosef — oh, and he's also one of our game developers and makes music too! The rest of the items below are also modeled by Ian with the exception of the baby onesies (we tried but it just didn't work). Click on any image below to go to the Store page.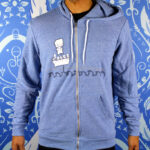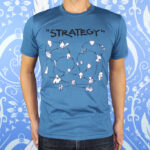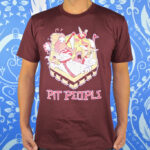 If you're planning on doing some holiday shopping and hope to get gifts delivered before December 25th, please check out the Shipping Info section for shipping deadlines.
We look forward to seeing everyone in these new hoodies, tees and onesies! If you aren't shy about doing some modeling, like Ian did, please tweet your photos at us (@thebehemoth)!