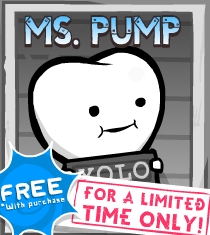 This weekend Extra Life, a 24 hour gaming marathon, will unite thousands of players around the world to support Children's Miracle Network Hospitals.

We're bringing Ms. Pump back into BattleBlock Theater in honor of the charitable work that so many people are putting into this fundraiser. It takes a lot of heart to do what they do.

In addition to bringing back Ms. Pump, we're bringing in one of our last two new Arena Features! As announced earlier this week, we will be re-featuring previous Furbottom's Features and Arena Features starting in December. So, without further ado, here are the new Arena Features for this week:

XBLA Arena Feature
arena battles by OverhandGnat415

Steam Arena Feature
Beghoule by echoplex
---
P.S.
While we weren't able to join in any Extra Life streaming this year, we've been in contact with several streamers who will be giving out some codes to our games. We'll also be supporting streams by retweeting any Extra Life streams that will be playing Alien Hominid, Castle Crashers, or BattleBlock Theater so they reach our community. Feel free to tag us in your tweet with your stream link – @thebehemoth.

If you aren't streaming, we hope you'll check out these Extra Life streams and support them! It doesn't even have to be monetary support 🙂 If you aren't able to donate, then you can still give emotional support since it takes a lot of effort to stream for 24 hours straight!

Best of luck to everyone participating in Extra Life this weekend!