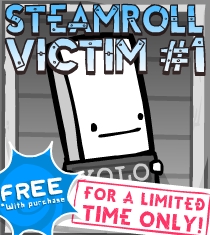 It's Friday! Make sure your weekend doesn't fall as flat as this prisoner's face!

As a reminder, we're going to re-release Steamroll Victim #1 in BattleBlock Theater for a limited time only. If you've received this unlock in the past then you won't be getting a notification, but you should be able to find it in your star category of prisoners.

And to spice up your weekend, we've updated the Arena Feature in BattleBlock Theater. This means you get to play a whole new set of awesome levels made by the community and you can play it with your closest friends or closest strangers online.
XBLA Arena Feature:
15ChambersOfFun by ManningOnThe
Steam Arena Feature: