BOOM! That's how fireworks are going to sound this weekend as the U.S. celebrates the Fourth of July. It's also the name of the prisoner we are re-releasing in BattleBlock Theater!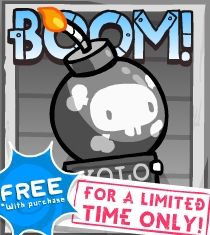 This week, load up BattleBlock Theater to unlock BOOM! (Note: If you already have BOOM in your array of special star prisoners, then you won't be getting an unlock notification.)

You can also load up the Arena Feature since it just got updated to another awesome playlist made by a community member!

XBLA Arena Feature:
Ballz by SMITTY HITMAN

Steam Arena Feature:
Forest Arena by Echoplex

Have a fun weekend, everyone!