We all had too much Turkey last week, right? So it's time to put away the old stuff and work out your thumbs in the Arenas!

Luckily, our friend from Alien Hominid, Fat Kid, wants to come out and play. It's time to take him around BattleBlock Theater and give him a chance to run (from raccoons!) and jump (over buzzsaws!).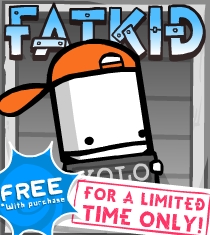 You could also check out the awesome encore of Arena Playlists we're featuring this month! We're bringing back the winners and honorary mentions of the Arena Playlist Creation Contest so you can have the most fun during the holidays. It starts off this week with the following community made playlists:

XBLA Arena Feature:
HEY LOOK HERE by TxC Artist

Steam Arena Feature:
Duckshark Arena by Obama's Mama

Have fun and happy Friday!