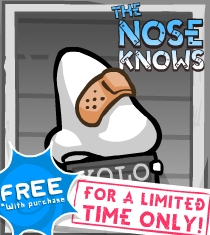 This week in BattleBlock Theater, we bring you a newly Featured Arena Playlist for XBLA and Steam. These playlists were honorable mentions in our recent Arena Playlist Creation Contest and you can access them just by going into the Arena and heading to the "Feature" section.

When you load up BattleBlock Theater and head towards an online area, you should receive The Nose (Knows). Make sure you get this unlock because you're going to blow away your competition in those Arena levels (right?!). Right on.

Featured Arena Playlists:

In XBLA:
HEY LOOK HERE by TxC Artist

In Steam:
Duckshark Arena by Obama's Mama

Enjoy your weekend!