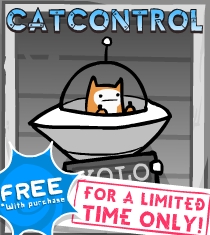 There are days when you feel like you can't control anything (like our Purrham unlock for XBLA & the Arena Feature last week. Those are up now by the way!). Other days, you feel like giving up control to a cat. That happens to you sometimes, right? No? Well it will now!

Finish up either the Solo or Co-Op playlist in Furbottoms Features and you'll unlock Cat Control upon completion. It's awesome seeing this feline control your body in BattleBlock Theater.

Here are the two new solo playlists that we've selected for Furbottoms Features this week:

XBLA Solo Playlist:
Solo Star by WeaklierCard6

Steam Solo Playlist:
Heaven to Hell by SnakeBD

Enjoy! Meow!