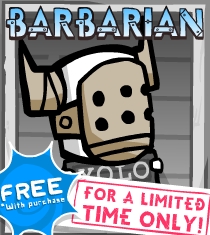 Oh. That's a new look for you! Barbaric much?

With Castle Crashers upcoming anniversary on August 27th, we thought it would be appropriate to give you Barbarian once you finished the BattleBlock Theater Furbottom's Features! If you play through the new featured co-op playlist then Barbarian will unlock at the end of your journey.

In XBLA : "reflexes" by "dentrolee"

In Steam : Cyanile by Cyanite
As an added bonus, you'll be getting Little Feets (teehee) as soon as you load up an online area in the game. You get to got for two brawny looks this week!