#TGIF – Thank goodness it's Friday. Fridays = New Furbottoms Features!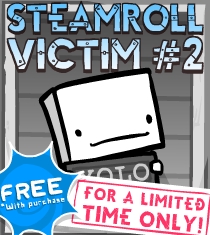 This week, team up with your favorite friends and bestest enemies in the Arena Feature created by Har poutyfungus, a community member of BattleBlock Theater. Play "Death Arena 2" playlist in BattleBlock Theater on XBLA this weekend.

And if you haven't unlocked this flat-faced friend already, then you'll be able to get Steamroll Victim #2 just for being logged in during an online area. Special prisoner–GET!