I think I've personally had it with this mad winter. Dropping cold temperatures and then scorching hot days in the middle of February. Make up your mind, World! We can't control things in reality, but in the island of cats and dangers we can unlock anything. So, it's time to get Toasty again.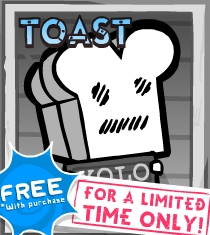 If you missed Toast last year, we're bringing it back to BattleBlock Theater XBLA as a reward to those who finish the new Furbottoms Features playlists. You can play the new Featured Solo Playlist or replay the Featured Co-Op playlist to unlock this delicious snack.
Just imagine if you encounter toast enemies with a partner as "Breakfast Face", could you make a double-decker breakfast sand-o?!
Limited time only!