You've waited all this time for the last of The Final Five in BattleBlock Theater to be revealed, and seeing as how it's Valentine's Day and all, we decided to just give you the last 2 new prisoners so that you could make it a double date!

What, both? Just like that?? Well, call us a bunch of hopeless romantics, but we just couldn't separate these two: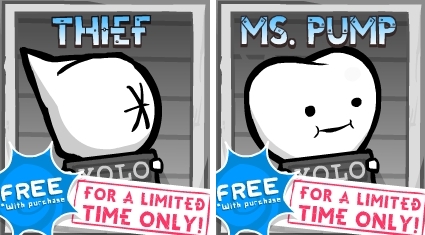 Aw… the magic of organ-theft. You might suspect the Thief to be a bit of a gold-digger, but I think we all know why he spent Castle Crashers sitting up in a tree… and it probably went something like K-I-S-S-I-N-G.
And for those times when wearing your heart on your sleeve isn't enough, this holiday, why not show that special someone you care by wearing your heart right on your face. If they don't run away screaming, you've got a keeper.
Just try to remember to keep it T for Teen when you two start flirting with disaster.
---
The Thief is unlocked when you finish either the solo or co-op Furbottoms Features playlist. But not until the very end when you've beat the last level. Check out a sneak preview of the new cooperative Furbottoms Features playlist, Togetherwefail3.
Ms. Pump will unlock as long as you're signed into Xbox LIVE and head towards an online feature in BattleBlock Theater.