Back in 2003, a small group of hardcore gamers got together with the modest goal of bringing craftsmanship and originality back to the game industry. On May 27th, 2003, The Behemoth was finally realized when we submitted the paperwork to become a legally recognized company.
Today, marks our ten year anniversary in the video game industry! To celebrate, we're doing a couple things this week: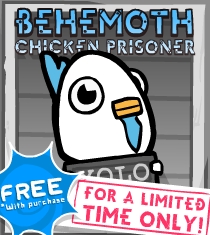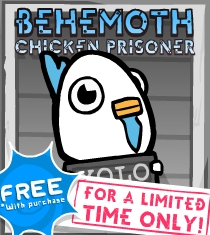 1. Return of a special unlock in BattleBlock Theater: The Behemoth Chicken.
For those of you who did not get a chance to unlock Behemoth Chicken in the first Furbottom's Features when the game was released, here's your second chance. We've made it really easy for this anniversary week! All you have to do is log in to the full version of BattleBlock Theater and the prisoner will unlock!
Note: if it takes a while to unlock, try heading over to Furbottom's Features or another online feature to trigger the unlock.
FYI: While we were trying to figure out a logo, Dan Paladin was just randomly doodling, and the one that really stood out was this blob of a chicken. Everyone loved it and it quickly became the logo everyone knows today.
2. Random giveaways
Throughout this week, we'll be giving out copies of Castle Crashers and BattleBlock Theater! Keep an eye out for the opportunity to win via our Twitter, Facebook page and Official Forums. There will also be a chance to win some goodies if you watch our Twitch stream this Thursday! So join us this week in celebrating our 10th birthday!
Note: Castle Crashers codes are available for Steam, PSN and XBLA. BattleBlock Theater codes are for XBLA only.
Thank you to the people who have supported us as a company for the last ten years. We hope to continue making games for decades to come.
The Behemoth, we make games.
---
P.S.
Just wanted to say that while I wasn't there for The Behemoth's inaugural year, I'm so excited to be a part of its first decade as a company. And on a side note, Happy Memorial Day! May you spend this day with loved ones and enjoying the life we're so lucky to have. -Megan