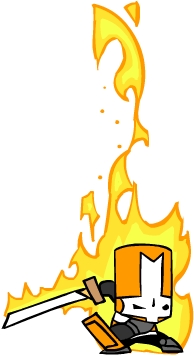 This week, you'll get to test your Castle Crashers knowledge  for a chance to win a spot in the BattleBlock Theater Closed Beta. Each day from February 5th until February 11th, XBLA Fans will be posting up one character or item from Castle Crashers. There's a catch to these images! They'll be distorted in some way, which means you'll have to do your best to guess what the original image is! Only one correct answer will win a beta code, but you'll have seven times to show off your Castle Crashers expertise.
NOTE: Even if you win the Beta spot, you MUST qualify according to the BBT Beta Terms & Conditions and have all the prerequisites fulfilled. Of course, we will need you to be registered on theBeta Registration Form. The process is the same, but you will be guaranteed a spot! Good luck!
Participants are eligible for only one guaranteed beta spot from any official contest. For example, if you won a spot from the week one contests, you are no longer eligible to win any additional contests.