It often feels like we won't get everything done in the two days before PAX starts, but somehow we manage with the man power of our small crew and we power through til the end! Here's another time lapse video showing our final day of set up and a video montage of our set up before opening up on Friday for PAX 2012. (We went all out this show for you guys back at home!)
When doors opened up for the PAX Seattle crowd, we were ready! Didn't know who would be coming to our booth, but we were hoping for another chance to chat with fans as it is our last trade show for 2012. It was an exciting first day with people lining up for the BattleBlock Theater and Castle Crashers arcade cabinets, we had knights crashing our booth and autograph signings by Dan Paladin and Tom Fulp from 1-3PM. Oh, and we also got to shock people by showing them the Castle Crashers Steam edition running off of tablets!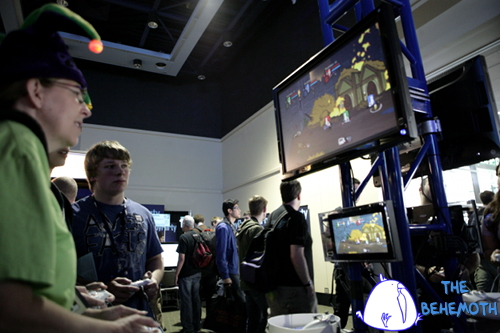 Click the link below to check out more pictures of Day 1 at PAX 2012.