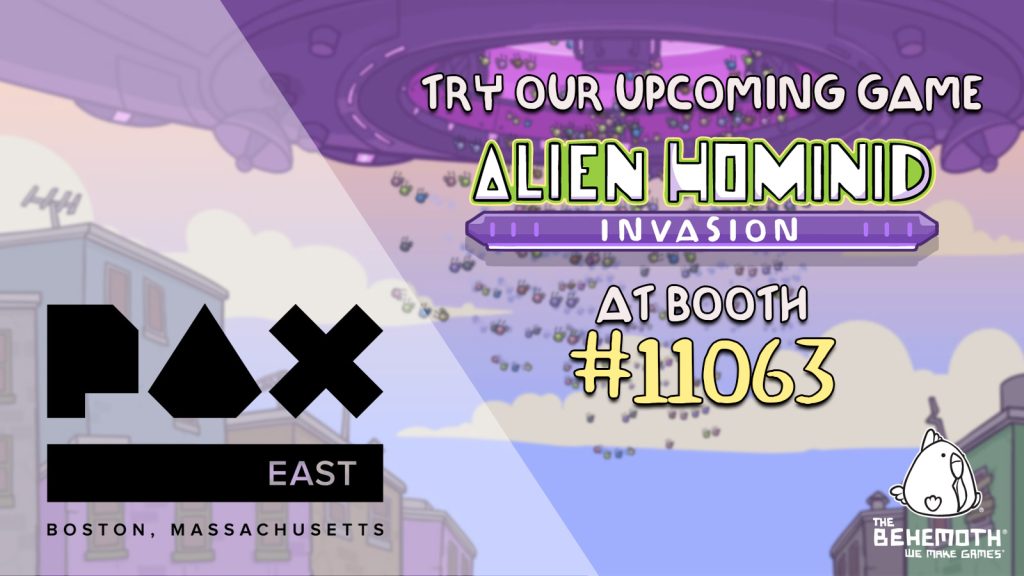 After three years of not meeting with fans in person, we are thrilled to announce that we'll be invading trade shows this year, starting with PAX East in Boston this March 23 – 26!
Come by Booth #11063 for the latest intel on all things Alien Hominid Invasion!
Our main focus for our first show back is letting you all get your hands on the game, as a ton of features have been tweaked and added since our last trade shows and beta test. Visit the booth and try out the latest demo, or join one of our daily competitions for a chance to win some alien-themed Behemoth goodies!
We'll also be bringing along some SUPER SECRET RAFFLE PRIZES that you can enter to win by just swinging by our booth and trying Alien Hominid Invasion. More information about our daily show-nanigans will be shared here closer to the show.
After we finish up in Boston, we'll be heading to W.A.S.D in London at the Truman Brewery March 31 – April 1! Show hours are from 10am to 6pm daily. If you're in town, why not swing by and try out our funny alien game?
We're truly so excited to be able to connect with you all in this way once more. I͖͉̟ h͕͖̺e̘̺͍a̡͎͜r̫̫͇ t̺͉̘h̘͔̝e̻̺̠ a̢̫̘l̢͙͜i̢̞̝e̼̫̞n͇̫̺s̘̺ a͕͙̦r̫̦e̼͜͜ e̻̘x͙̪c̡͍̟i͎̘̼t̝̘͓e͍̻͉d̫͓̺,̫͖̠ t̠͇̼o̡̺͇o̞̙͙.̙̘̙ See you soon!