Greetings to the Behemoth Development Blog of which we reside!
I'm here today to present you with the gift of a release date. After many months of certification we've finally secured an actual day for USA, Canada, and Mexico for Castle Crashers on the PlayStation Network. This gift is Tuesday, August 31st!!!!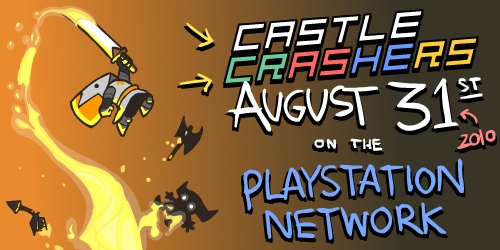 We've been working on Castle Crashers for PSN for about a year and a half. In that time I've had the fortune of meeting everyone at tradeshows and lots of people will ask me, "C'mon what is taking so long?". I have to say that we've felt the same way – our whole team's goal is to make you all happy so we want to share it right now!! We're super antsy. But like all of our games we can never rush anything as it's necessary to make sure that every little piece is airtight. and fun!
We've teamed up with some other sites to give you a full list of contests for a chance to win free stuff. Be on the look out for these dates as we inch closer to the release. Perhaps something wonderful will be obtained?
Finally, we're going to be at PAX (Penny-Arcade Expo) on September 3-5th at Booth #3102 so come on by and check out both Castle Crashers and BattleBlock Theater. We are building a 4-player Castle Crashers arcade cabinet which you can use at the show! Look out X-Men/Predator/Simpsons we're coming after your distant memories!!!!
love,
Dan